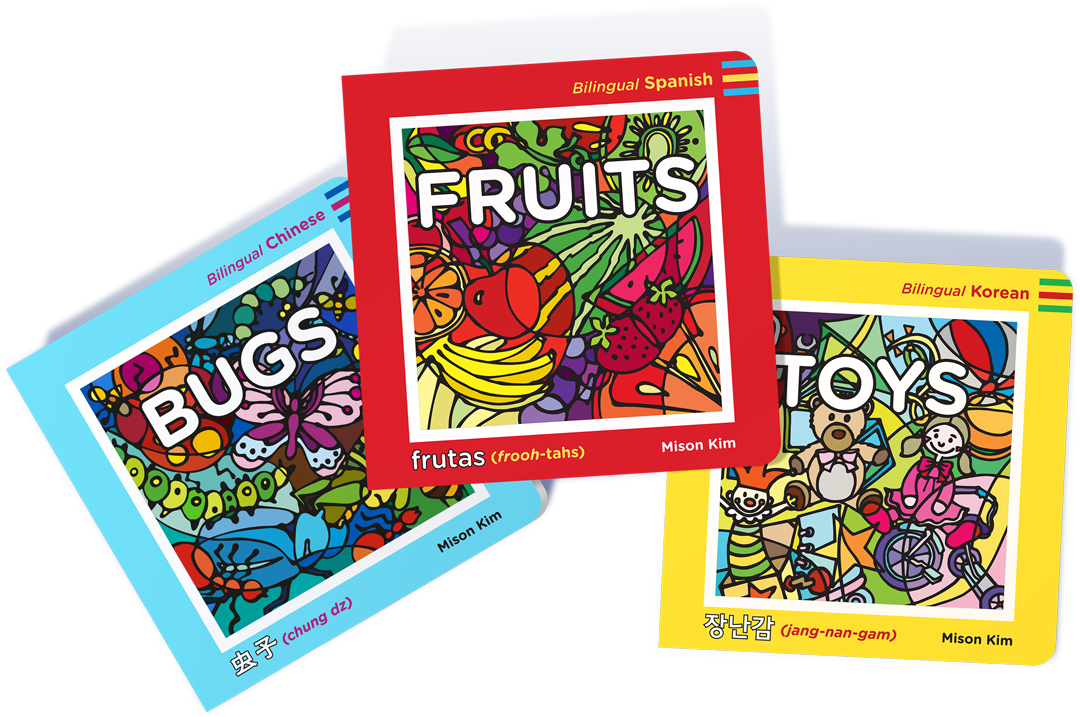 A Better Way to Learn More Than Just Words
These gloriously-illustrated board books are designed to make learning a new word an experience to be cherished. Mison Kim's jewel-like images invite children to discover and play. Each page turn opens on a whole world of possibilities that can make meaningful differences for developing a child's visual and verbal sensibilities. The magic of language is more than just pointing and naming—it's sharing. Share more of your world with your child. Open a Dooleyglot book and find out what you can find together.
The How & What of Objects
Mison Kim's Dooleyglot books use visual priming to help young children engage with context. The right side of the spread is designed to present an object isolated in space—like most first-words books. On the left side, the same object is surrounded by an exciting, detailed, color-drenched environment. This provokes interaction with the image, as well as interaction between caregivers and children as they discover shapes, colors, and different views of the object, together.
RIVERSTONE BOOKSTORE - Fun for Kids with Mison Kim - Saturday, September 28th
Join Mison Kim for a fun children's morning at Riverstone Bookstore, in Pittsburgh, Pennsylvania, on Saturday, September 28, 2019, at 10:00. Mison will be sharing her beautifully-illustrated Dooleyglot Bilingual Board Books, FRUITS, BUGS, and TOYS. You might learn a few words in Spanish, Chinese, or Korean, but these books are designed for experiences that go far beyond learning a single word for an object. Mison's dazzling images invite young children to investigate and wonder. Fun activities are sure to keep young minds perking.
Dooleyglot is always looking to take things further. We would love the opportunity to partner with other creative minds to try to make a difference in our world. If you would like to join us on our adventure, please contact us and let us know what you think. Check out our Projects page to see a few of our other ideas. Maybe, together, we can make a new reality.